SCHROEDER'S
MUSIC SCHOOL

Schroeder's features the
PEANUTS™ PIANO COURSE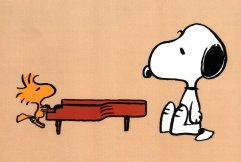 Would you like to learn to play the piano? You can!

Many people, young and old, have discovered the satisfaction and enjoyment of learning music. Would you believe, Schroeder's offers free piano lessons on Saturday mornings at 10AM so that you can do just that. No, you don't need to buy a piano to come to the lessons. Just come a few minutes early for pre-registration. We have a crazy wonderful time for one hour every week!

Group lessons are available with a limit of six per class for only $57.00 per month.

Private lessons are available ranging from $90.00 per month.


Our students enjoy field trips, recitals, special events and competition. Our teachers are familiar with and make use of techniques offered by John Thompson, Alfred, Suzuki, Yamaha and others


We offer:

PIANO
GUITAR
VOICE
PERCUSSION
VIOLIN
AND MORE!



1-800-57-PIANO
Fax: 562-630-4471

13119 Downey Ave.
Paramount, CA 90723
SCHROEDER'S TEACHER FRIENDS:

NAOMI CODDING'S PIANO STUDIO
http://www.startpiano.com

PRISSCILLA'S MUSIC
ARDMORE AVE., BELLFLOWER

ACE MUSIC
FIRESTONE AVE., DOWNEY